About Us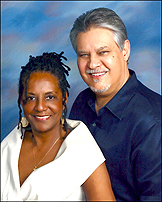 Going Places is owned and operated by Regina and Jean-Pierre Webster, who for more than 30 years have produced a wide variety of quality events and educational presentations. For many years, Regina Webster has made it her mission to teach individuals and communities about the strength and power of holistic health consciousness.
Regina holds advanced degrees in Business and Metaphysical Sciences and has been invited to speak at universities, businesses and non-profit organizations including the University of Riverside and the Council for Advancement and Support of Education (CASE).
For several decades Jean-Pierre has had a successful career in Sales and Marketing. He currently does consulting work while assisting Regina in producing and marketing Going Places' events. In addition, JP maintains the Going Places' website.
Expand your healthcare offerings by learning more about natural and holistic health treatments. Going Places offers 1 hour, 2 hour, 1/2 day and full day seminars and workshops, private speaking engagements, and holistic event management services that promise to raise the health and wellness consciousness of your community and employees.
Call or email for a FREE initial consultation to obtain more information about what our holistic event management services can do for you.